Introducing the most efficient Salesforce data observability solution for monitoring and protecting CRM data
With the amount of data stored in your Salesforce.com CRM – it's no wonder that organizations are looking to enterprise backup solutions to help them protect that business-critical dataset from potential data loss. After all, data and metadata are the lifelines of your business, and you can't afford to be down too long, or you could cause irreparable damage and harm to your company and brand.
Luckily there's a wide variety of backup and recovery options ranging from on-prem and tape drive solutions in remote locations to cloud-based backup storage. Often, a modern CRM – like Salesforce – requires a modern type of backup: cloud-based backup. Cloud backup solutions enable businesses to tailor a solution that fits their business' disaster recovery plan and backup strategy. Not to mention, cloud-based enterprise data backup solutions have the storage capacity to grow with your business at a fraction of the cost of application-native data storage. 
Modern Salesforce data protection solutions should back up your data 24 hours a day. As a best practice, reducing your Recovery Time Objective (RTO) is always recommended while increasing your Recovery Point Objective (RPO). Because who wouldn't want to recover from a disaster event (e.g., ransomware, accidental deletion, etc.) as quickly as possible from their most recent viable backup? With disaster events, you can't afford to lose time or data. 

That's why it is imperative to be able to protect your data and monitor those backups. Fortunately, with our Winter '23 release – the Notandum Edition, data protection and data observability are at your fingertips.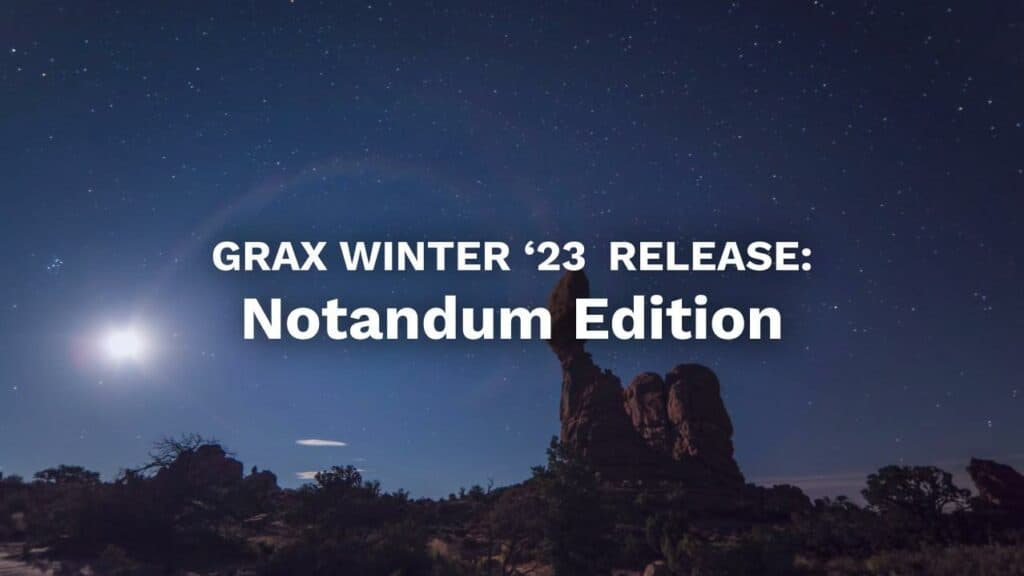 Salesforce Data Backup Health Dashboard
Implementing a Salesforce data backup service is critical for the enterprise, but you can't forget about monitoring those data backups.
In some cases, backup solutions are treated as a set-it-and-forget-it system. But you still need to either test those systems or at least monitor them – really, don't wait until disaster strikes to see if your backups are functioning properly.
That's why we are thrilled to announce the availability of the quickest and easiest way to view Salesforce data backup health. GRAX's Auto Backup Dashboard serves as the primary point for referencing Salesforce data backup metrics and statuses. At a glance, this dashboard provides visibility into
how much data has been backed up,
the time frames for which backup safety can be assured,
and how much work Auto Backup has completed historically.
Learn more about Salesforce Data Backup Health Dashboard in our documentation. 
Salesforce Data Archive Enhancements
Keeping historical data in Salesforce can be expensive, but your company may still need to access these records from time to time. Archiving data with GRAX provides a great tool to reduce Salesforce storage costs and optimize app performance while retaining access to these data. No one likes to wait, so the GRAX team has been diligently working to improve our Archive product's speed and performance by 5X* with the Winter '23 release.
We have also added a new Archive Dashboard. A new chart at the top shows your historical Salesforce storage usage, allowing you to keep tabs on the decrease in data stored in Salesforce and optimize your use of Archives. Turn on Auto Archive so that you can automatically keep your Salesforce storage under control. 
We have also improved the presentation of archive jobs to show how many records were archived, the duration of an archive job, the records processed per second, job status, and the success rate for each job.
Salesforce Data Recovery Enhancements
We have improved the behavior of our GRAX Recovery product so that it completes the requested restore job while keeping track of any exceptions, which are gathered and presented to the user for further action once the job completes. For an improved experience, we have also implemented better handling for less common objects so that additional types are restored without any user intervention. Improving the efficiency of building the object hierarchy graph has tuned up the speed of our Restore product.
Similar to the improvements with Archive, we now show equivalent fields for Restore jobs. 
Email Message Viewer 
GRAX's Data Viewer allows our customers to view archived or deleted email messages either in the GRAX Application for Salesforce or by using the Salesforce Lightning Web Components (LWC) / iFrame in Salesforce. This gives our GRAX users the ability to integrate GRAX within their user's workflows without ever having to leave Salesforce.
Banners / Permissions
Inside the GRAX Application, you will now occasionally see banners that prompt you to various alerts and or important information. 
Banner for CSP Trusted Site
The GRAX LWC Data Viewer now has the option to use an iFrame for faster loading and improved appearance. This new iFrame feature requires adding a CSP Trusted Site for GRAX in the Salesforce org. If you do not add the trusted site, the new iFrame toggle in the LWC settings does not allow embedding the iFrame. 
To be sure users are aware of this, there is a new Warning to add the CSP Trusted Site if one does not exist for GRAX application.
Dark mode
Are you sensitive to blue light or not a fan of light mode in the UI? Well, our team wasn't either. Thankfully, we now have dark mode available for you and your eyes.
To change over to the new dark mode takes less than two clicks:
Select 'settings' from the left sidebar,
Click on the toggle next to light mode,
And there you have it; you're now in dark mode!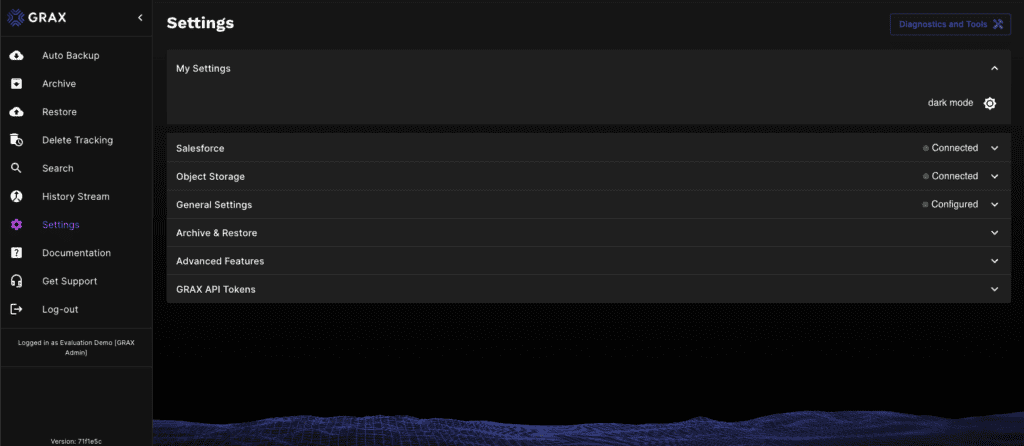 Support experience
Last but certainly not least, we've improved our award-winning GRAX support by providing a new method of reaching our technical support team. This latest update enables GRAX users to be able to 'Get Support' directly from the GRAX Application for Salesforce, which now includes the ability to demonstrate, capture, and submit screen recordings directly. This improvement provides users with a streamlined experience for troubleshooting and resolving any support issues.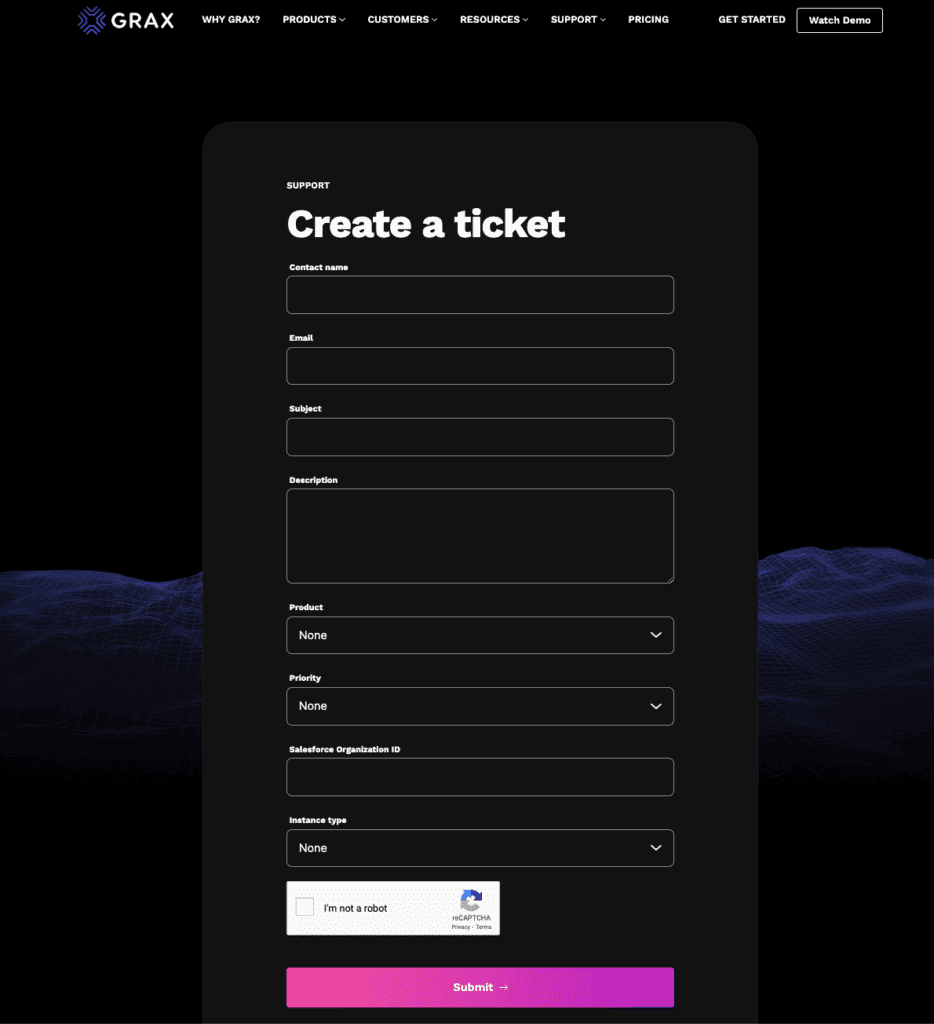 Watch our GRAX Labs video to check out the new support experience.
Want to learn more?
Check out our release notes to learn more about the Notandum Edition, including product enhancements and bug fixes.
—
* Based on >100 records/second for a 250,000 record volume, your performance may vary depending on organization-specific data schema.