GRAX's Fall '22 Product Release delivers on high-performance mass recovery of hierarchical Salesforce data, Open Source GRAX, and automated Salesforce data archiving
Nowadays, it's no longer "if" you'll have a data loss event but a matter of "when." And when this human error or malicious event happens, your business continuity planning and disaster recovery strategy are tested. With the amount of mission-critical data in your Salesforce Org, it's no wonder the Salesforce platform has been deemed a critical application for years — making Salesforce data protection vital to your business operations and business processes.
Two of the most significant elements of Salesforce data protection as part of your disaster recovery plan are data backup and data recovery. But we'd be remiss if we did not also consider RTO and RPO:
Recovery Time Objective (RTO) is the amount of time (minutes, hours, days) your business can afford to be down for.
Recovery Point Objective (RPO) is the age of the data that will be recovered from your backup before business resumes.
Businesses should always look at how to have the highest fidelity of data by capturing more frequent snapshots of their data (Big Objects record data, standard and custom objects record data) for improving RPO. Especially since storage costs in major clouds like Amazon Web Services (AWS), Azure by Microsoft, and Google Cloud Platform (GCP) are negligible at this point – especially when compared to storing that amount of data in the Salesforce application itself. When you back up your Salesforce data into your own cloud storage, you own 100% of your data. Gone are the days of renting access to your data or not being able to meet regulatory compliance.

Once you're backing up your Salesforce data incrementally (e.g., hourly backups), you'll always have a point in time to restore your data from, whether it's due to accidental deletion or malicious activity. The rule of thumb is that you'll want to have more data points to recover from and mitigate potentially detrimental data loss. But that's just half the equation.
The other half addresses how long it takes to get your business back online, i.e., how long you can afford for your business to be down for. The faster you've recovered, the sooner your organization can be back in business. And don't forget, the longer you're down, the more you put your business at risk – monetarily and reputation-wise.
When you want to minimize your RTO (Recovery Time Objective), your Salesforce data backup and data restoration solution should be as performative as possible – efficiently recovering files and data that meet your organization's needs. Fortunately, with GRAX, this latest Fall 2022 product release – the Elemental Edition – helps Salesforce customers recover their Salesforce data faster than ever, along with some other new and exciting features!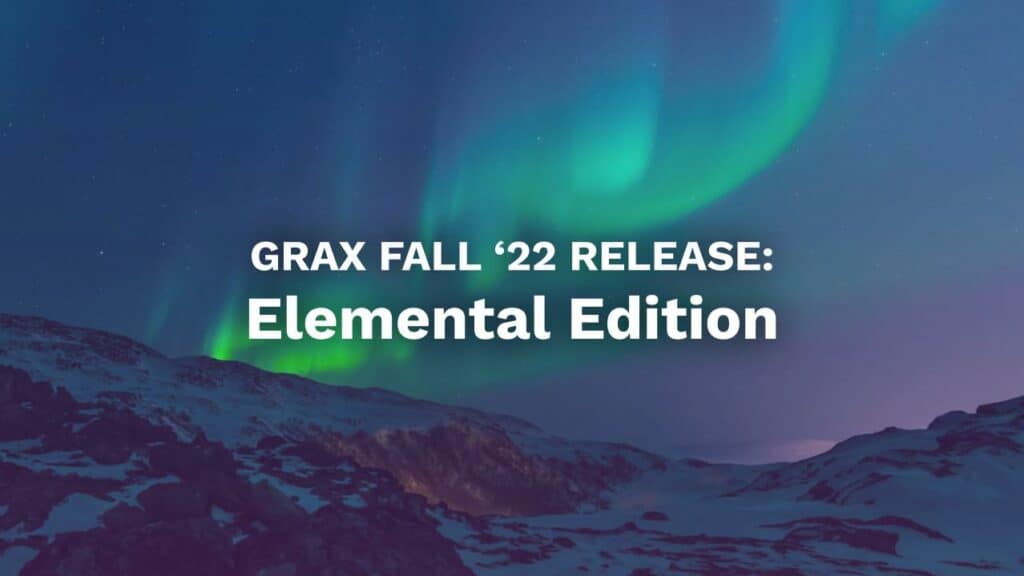 GRAX Recovery
With the general availability of GRAX Recovery, Salesforce customers can now restore hierarchical Salesforce data within minutes. Optimized restoration performance also extends to recovering archived data (i.e., data that's no longer stored in Salesforce). Ultimately, you can minimize your Recovery Time Objective so your business can get back online sooner.
Salesforce customers will also find that they'll have granular control at their fingertips and can easily override fields where schemas or validations could have changed over time.
Check out our GRAX Recovery documentation to learn more.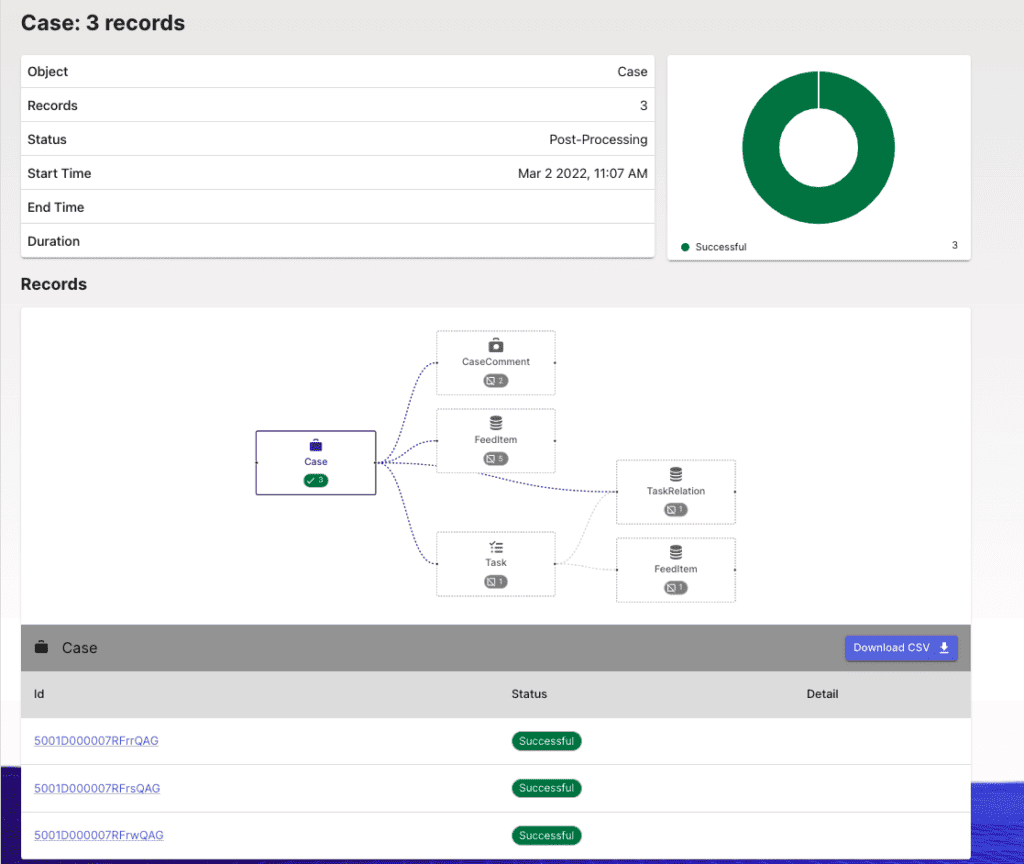 Auto Archive
When considering a Salesforce data protection solution, understanding how to manage the entire data lifecycle is crucial to your organization's Salesforce data management policy. Data backup, recovery, and reuse are part of that cycle. But once you're done with using your data or past your data retention policy, it's time to delete it. That's where GRAX Auto Archive can assist your business with Salesforce data archiving.
This latest archive functionality allows GRAX users to leverage the power of Auto Backup and confidently archive Salesforce records using templates or SOQL queries. This gives peace of mind when you need to archive data as part of your overall archive strategy without worrying about unexpected data loss from Salesforce triggers and cascade deletes.
Check out our documentation to learn more about this new Auto Archive feature.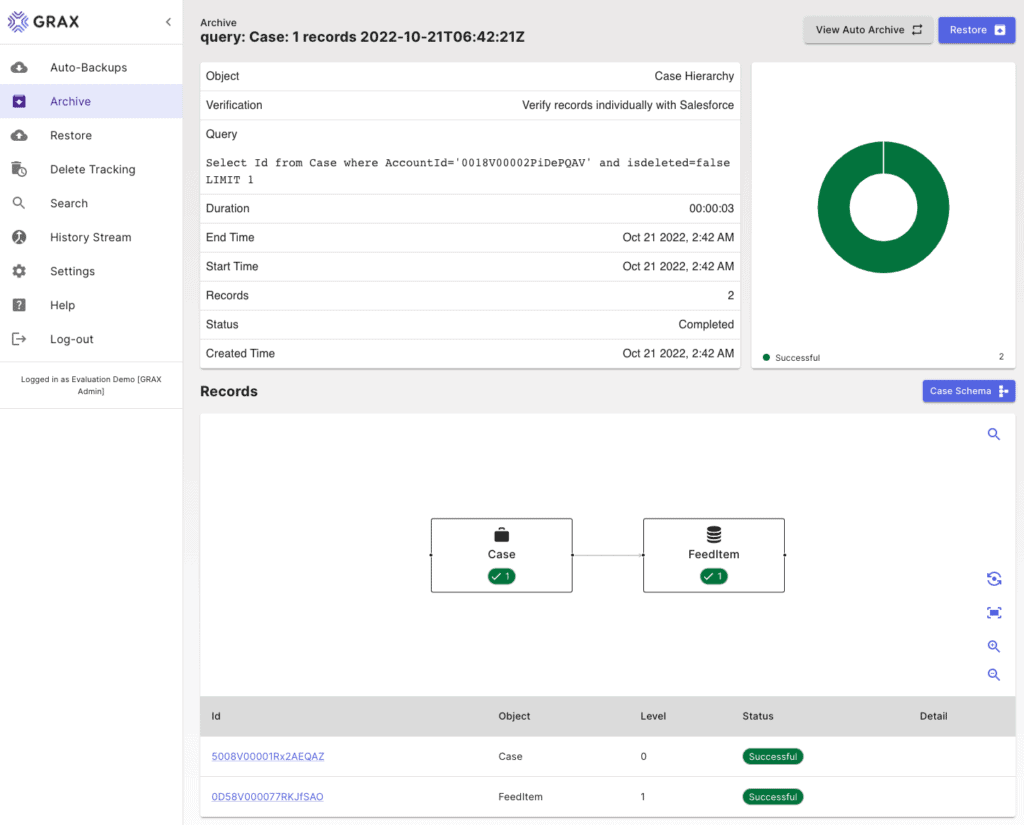 GRAX Embedded
For those who wish to have the newest version of GRAX without the burden of installing or updating their managed package for Salesforce, GRAX Embedded is here to make things easier. No installation or updates of the managed package are required for Salesforce customers by leveraging an Open Source format.
GRAX Embedded was created to promote a larger community of sharing, building, and collaboration. If you choose to use GRAX Embedded, you can now easily leverage all the goodness of GRAX while eliminating the headaches and burdens associated with updating and maintaining the Salesforce managed package. Learn more about GRAX Embedded in our documentation.
Want to learn more?
Check out our release notes to learn more about the Elemental Edition, including product enhancements and bug fixes.
---
1 Salesforce – The platform comes with a storage limit of 1GB of data, 10GB of file storage per organization, additional 20MB (for Professional & Enterprise plans) or 120MB (for Performance & Unlimited), and 100MB file storage per user.
Source: https://www.findmycrm.com/blog/crm-overview/how-much-does-salesforce-cost

2 Amazon Web Services (AWS) – Pricing for S3 Standard for the first 50 terabytes (TB) in US East (Ohio)
Source: https://aws.amazon.com/s3/pricing/

3 Azure by Microsoft – Pricing for Hot for first 50 terabytes (TB) in East US
Source: https://azure.microsoft.com/en-us/pricing/details/storage/blobs/
4 Google Cloud Platform (GCP) – Pricing for Standard Storage in South Carolina (us-east1)
Source: https://cloud.google.com/storage/pricing
5 Data Price for Salesforce – Additional storage space can be purchased in blocks of 50 or 500MB at $125/month for 500MB of additional data storage.
Source: https://www.findmycrm.com/blog/crm-overview/how-much-does-salesforce-cost