Introducing GRAX High Trust – the must-have data backup feature for any business looking to ensure the security, privacy, and compliance of their data.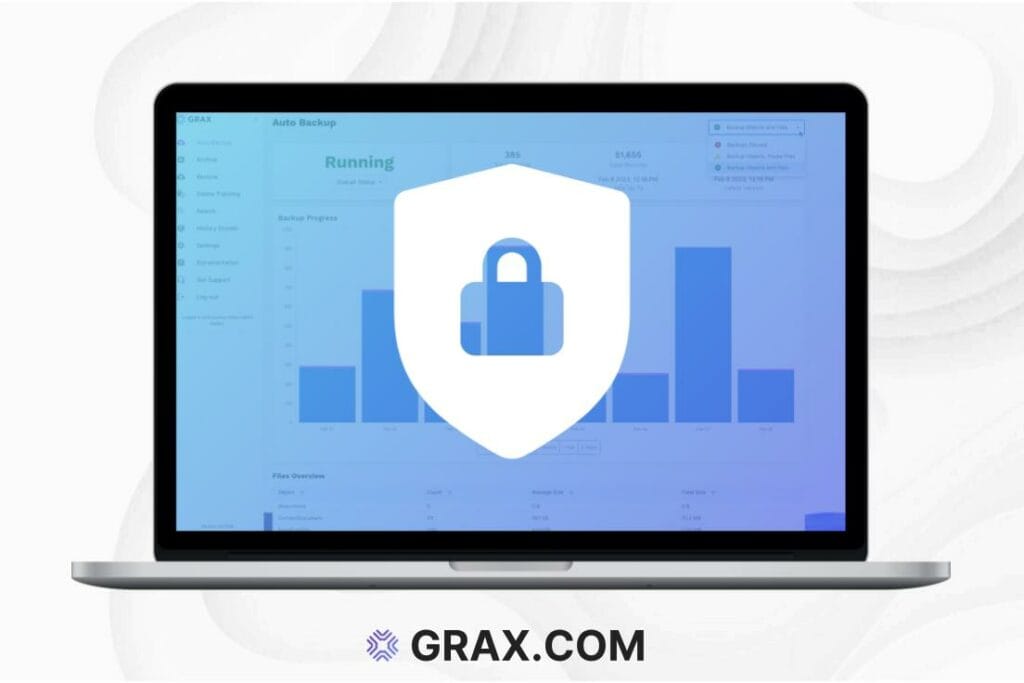 What is immutable storage?
Immutable storage can be defined as a method of storing copies of data that ensures that once data is written to a storage system, it cannot be modified or deleted. This is accomplished by making the data "read-only" and preventing any changes to it, therefore, creating accurate copies of clean backups. These immutable backups would be stored in a write-once-read-many (WORM) cloud storage or on-prem data storage and would be readily-available to recover data if a disaster event (e.g., cyber attack, accidental deletion, natural disaster, etc.) occurs for more secure data protection.
Why it matters
When the average ransomware payment is $812,360, having air-gapped backups with your immutable data becomes invaluable. The benefit of immutable storage is that it provides an additional layer of protection against data tampering or data loss, which is especially important for customer data that is critical, sensitive, or regulated. It ensures that data remains authentic and the integrity of the data is protected, especially in high compliance and high trust environments where data security and privacy are crucial.
In today's climate, with the increasing threat of ransomware attacks, you simply cannot afford to take any chances. We know that more and more customers are facing the challenge of protecting their business-critical customer data with a reliable and secure backup solution. This is precisely why we created GRAX High Trust; our immutable backups empower customers to protect their Salesforce data in a WORM-compliant data store to provide unparalleled protection and peace of mind.

Joe Gaska, Head of Product @ GRAX
What it includes
In addition to 100% data ownership of all Salesforce data, the GRAX High Trust data backup solution is designed to provide customers with the following:
Robust backup architecture that can be deployed to your cloud of choice – AWS, Azure, GCP, and others,

Immutable object storage that prevents any changes to Salesforce data objects once they are written to the storage,

Support for compliance regulations – such as HIPAA with BAA, FINRA, FedRamp, and others.
Immutable backups are here.
It's time for a more robust way to protect your Salesforce data
Try now
Who it benefits and impacts
Immutable storage is often used in healthcare, finance, and government industries where data integrity and compliance are essential. Internally, roles that handle sensitive data and ensure data security and compliance will be especially interested in how immutable backups and storage can help strengthen their organization's security posture.
Industries
Healthcare – With HIPAA (Health Insurance Portability and Accountability Act) regulations require healthcare organizations to protect sensitive patient health information (PHI data). Immutable backups and storage can help healthcare organizations meet these requirements by providing a secure solution for protecting sensitive patient data.

Finance – Financial organizations are subject to various compliance frameworks such as FINRA (Financial Industry Regulatory Authority) and SEC (Securities and Exchange Commission) regulations, which require financial records to be stored in a tamper-proof, WORM-compliant data store.

Government – Agencies must comply with various compliance frameworks such as FedRAMP (Federal Risk and Authorization Management Program) and NIST (National Institute of Standards and Technology) guidelines, where they need a solution that's impervious to tampering to protect data from unauthorized access or modification, ensuring its integrity and authenticity.

Roles
Chief Information Security Officer (CISO) is responsible for the overall security of an organization's information and data. Their fundamental priority is protecting sensitive data, which Immutable backups and storage can help solve.
Chief Compliance Officer (CCO) must ensure that an organization complies with various regulations and standards, where immutable storage can help the CCO support and meet compliance requirements.

Data Privacy Officer (DPO) is responsible for ensuring that the data processing activities comply with data protection regulations and immutable backups provide a secure and unalterable solution to protect sensitive data.
IT Manager oversees an organization's IT infrastructure, which includes data storage and backups. Immutable storage offers dependable backup copies that guarantee data integrity and accessibility.
Security Analyst is responsible for monitoring and analyzing an organization's security posture, where immutable backups and storage can aid them in detecting potential security incidents by creating an audit trail of all storage and backup activities.
In summary, GRAX High Trust provides immutable backups, a data protection mechanism that meets various regulatory frameworks' rigorous security and compliance requirements. This product can safeguard against accidental or malicious data deletion or modification and protect against ransomware attacks, malware, or other security threats that may attempt to manipulate data.
Learn more
—
GRAX High Trust is generally available. Any unreleased services or features referenced in this or other press releases, public statements, or public materials are not currently generally available and may not be delivered on time or at all. Customers who purchase GRAX should make their purchase decisions based on currently available features.