This article "GRAX History Stream feeds Salesforce data to analytics tools," by TechTarget's Johnny Yu, discusses the launch of GRAX's History Stream – including insights from GRAX CEO Joe Gaska and Bloor Group CEO Eric Kavanagh.
GRAX's new History Stream solution provides an easy way to directly send Salesforce data into intelligence tools so customers don't have to build that integration themselves. Eric Kavanagh, Bloor Group CEO, says extracting data from Salesforce using native capabilities is error-prone and time-consuming, and transforming that data and loading it into an analytics or data visualization software requires more manual labor. History Stream eliminates the need for this process, saving valuable time and money.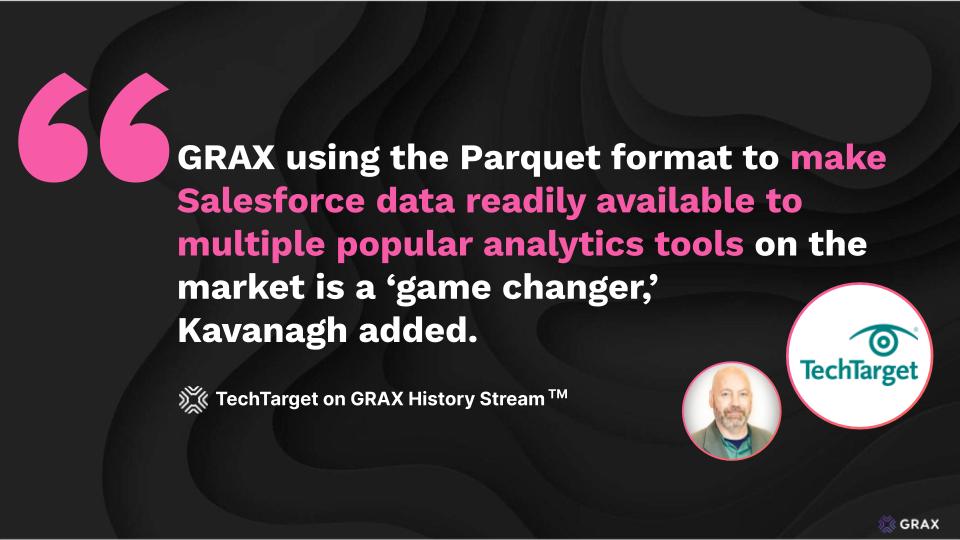 Key Takeaways:
History Stream lets customers use historical data for far more than just an insurance policy
Product velocity, customer service volume, and all sorts of business questions can all be answered with historical data
Kavanagh is effusive about GRAX's new solution, saying, "GRAX using the Parquet format to make Salesforce data readily available to multiple popular analytics tools on the market is a 'game-changer.'"
Read more in this TechTarget article, Grax History Stream feeds Salesforce data to analytics tools.
See GRAX History Stream in action
Discover how History Stream works with Salesforce Amazon QuickSight
Watch now