Securely deploy Salesforce data protection where you want it: AWS, Azure, Google Cloud Platform, Terraform, and other clouds.
In a world of Salesforce limits, it's nice to hear the word: unlimited. Who doesn't like something unlimited, especially when it comes to SaaS applications? Wouldn't it be nice to have unlimited Salesforce app storage (without the expensive Salesforce storage costs) or unlimited API calls? Sadly, limits have to exist in the world of SaaS apps like Salesforce. And that's why GRAX is proud to announce our Spring '22 Release – The Dispersion Edition, where the limit for Salesforce backup deployment and management does not exist.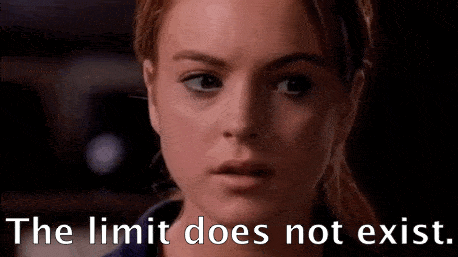 The GRAX Spring '22 Release – Dispersion Edition is the most flexible and secure way to capture, access, and reuse historical Salesforce backup data and archive data by empowering businesses to take full control and ownership of their data and its Digital Chain of Custody by deploying the next generation of GRAX anywhere they want. This release is built for Salesforce admins, business systems managers, and IT professionals who need ​​an enterprise-ready Salesforce data backup and recovery service. They can deploy, customize, own, and manage the cloud infrastructure of their choosing for GRAX Backup for Salesforce:
Amazon Web Services (AWS)
Azure by Microsoft
Google Cloud Platform (GCP)
Terraform
And anywhere else they want.
The Bring Your Own Infrastructure (BYOI) model enables organizations to have even greater control of their historical Salesforce data. Empowering them to have a more secure posture on Salesforce data protection with continuous hourly backups (Recovery Point Objective – RPO) running without manual intervention.
Traditionally, some vendors, including native Salesforce backup, only backup cloud application data to their vendor-owned storage. You'll also find that some third-party Salesforce data backup services do allow for some limited data ownership, such as exporting data to a customer-owned AWS S3 bucket for Salesforce data storage. Unfortunately, these models are just not enough for highly compliant industries, like healthcare & life sciences or financial services, who need a true enterprise backup solution for their mission-critical Salesforce backup files and data.
Since supporting your business's security posture is a top priority when it comes to backing up your Salesforce data, the next generation of GRAX was designed to empower businesses to take back control and ownership of their Salesforce data. This is achieved by easily and flexibly protecting their Salesforce data with hourly RPO (high-frequency backups) for all of their data objects in the infrastructure they choose and own 100%.

GRAX Enterprise: Deploy GRAX anywhere you want.
There are many enterprise data backup and recovery solutions for data loss prevention that offer various security and data privacy options to support your Salesforce data compliance needs. But how many of these solutions actually support an organization's security posture, where your CRM data can be brought under your business's security umbrella?
If Salesforce CRM data is vital to your organization, whether for historical retention policies or for downstream reuse and consumption, shouldn't you bring your data somewhere you can fully trust? That means decoupling and backing up your Salesforce data into your infrastructure under your business's security umbrella for data storage of Salesforce history.
Maybe you want to backup your Salesforce Personal Identifiable Information (PII) data into your Azure HIPAA compliant architecture? Or maybe you want to store your historical customer data in a WORM/FINRA compliant data facility that you manage and own?
You can do this out-of-the-box with GRAX. Simply Bring Your Own Infrastructure, deploy, and backup to AWS S3, GCP, Azure Blob Store, Terraform, or any cloud storage of your organization's choice. Thus allowing your organization to 100% customize, own, and manage your Salesforce backup and restore solution and deployment for even more secure data protection and data management.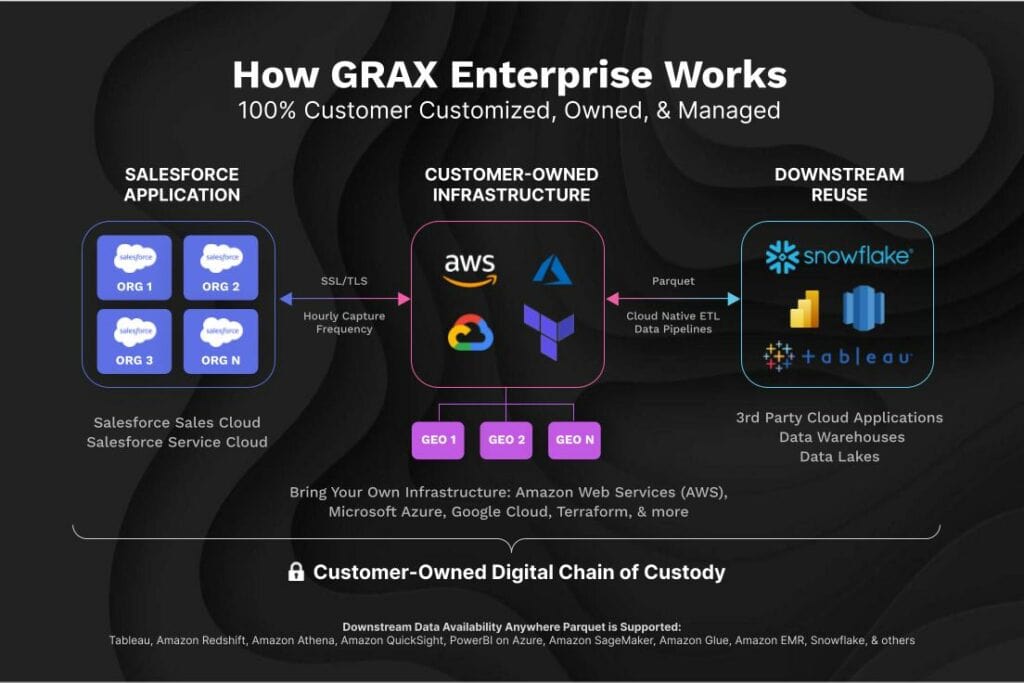 Not to mention, the best part of bringing your Salesforce data into your own infrastructure (cloud environment) is that it enables your data teams – data engineers, data analysts, and DataOps specialists – to easily leverage your cloud services' industry-standard tools for data analytics, artificial intelligence (AI), machine learning (ML), data warehousing, and more!
Try GRAX risk-free
Are you not ready to commit to a Salesforce backup and recovery solution but want to try it first? We're thrilled to announce that you can now choose between a free 7-day trial of GRAX running on your AWS infrastructure OR try Salesforce's free trial 'Test Drive' option that lets you try GRAX without any installs required.
Salesforce Test Drive
If you want to try out GRAX without having to do any installations, you can use the Salesforce Test Drive option. This provides you with a demo environment with test datasets, so that you can see all the features and functionality without having to link to your own Salesforce Org or spin up a tech stack.
To get started, just visit GRAX's AppExchange Listing and click on 'Test Drive'.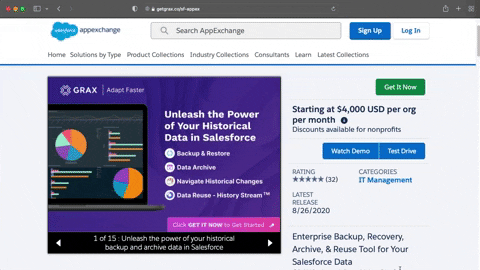 GRAX 7-Day Free Trial
Are you looking to run a full pilot of GRAX using your own tech stack (AWS) and Salesforce Org? Then the GRAX 7-day free trial is perfect for you. Visit ​​https://www.grax.com/trial/ and complete the form to get started with your 7-day trial.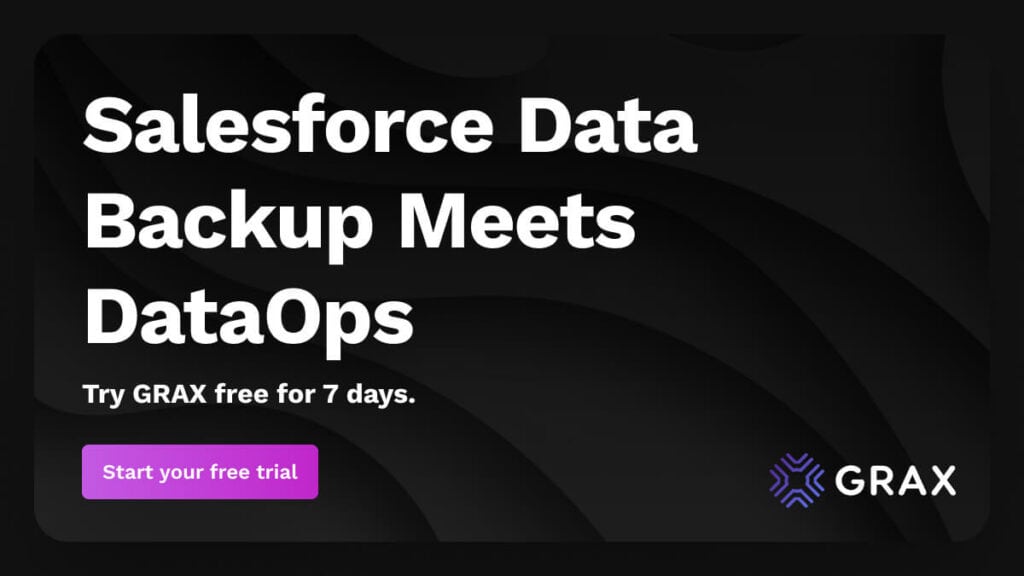 Auto-Backup: High-frequency hourly backup for all of your Salesforce data objects.
If your organization's Disaster Recovery Plan (DRP) dictates a need for hourly RPO backups for your Salesforce RPO and RTO standards, GRAX makes it easy for you. With our Auto-Backup feature, Salesforce automated backups capture your application data, meaning it continuously backs up the data objects of your entire Salesforce Org. This simple "on switch" will backup all of your Salesforce objects and their data and files without any manual intervention. You no longer need to configure which objects you'd like to backup or maintain scheduled backup jobs.
Automatic backups at this high frequency provide your business with the highest fidelity backup RPO available for all Salesforce data objects without the headaches of manual efforts. You also have the flexibility to disable an object from Auto-Backups as well. Learn more about Auto-Backups in our documentation.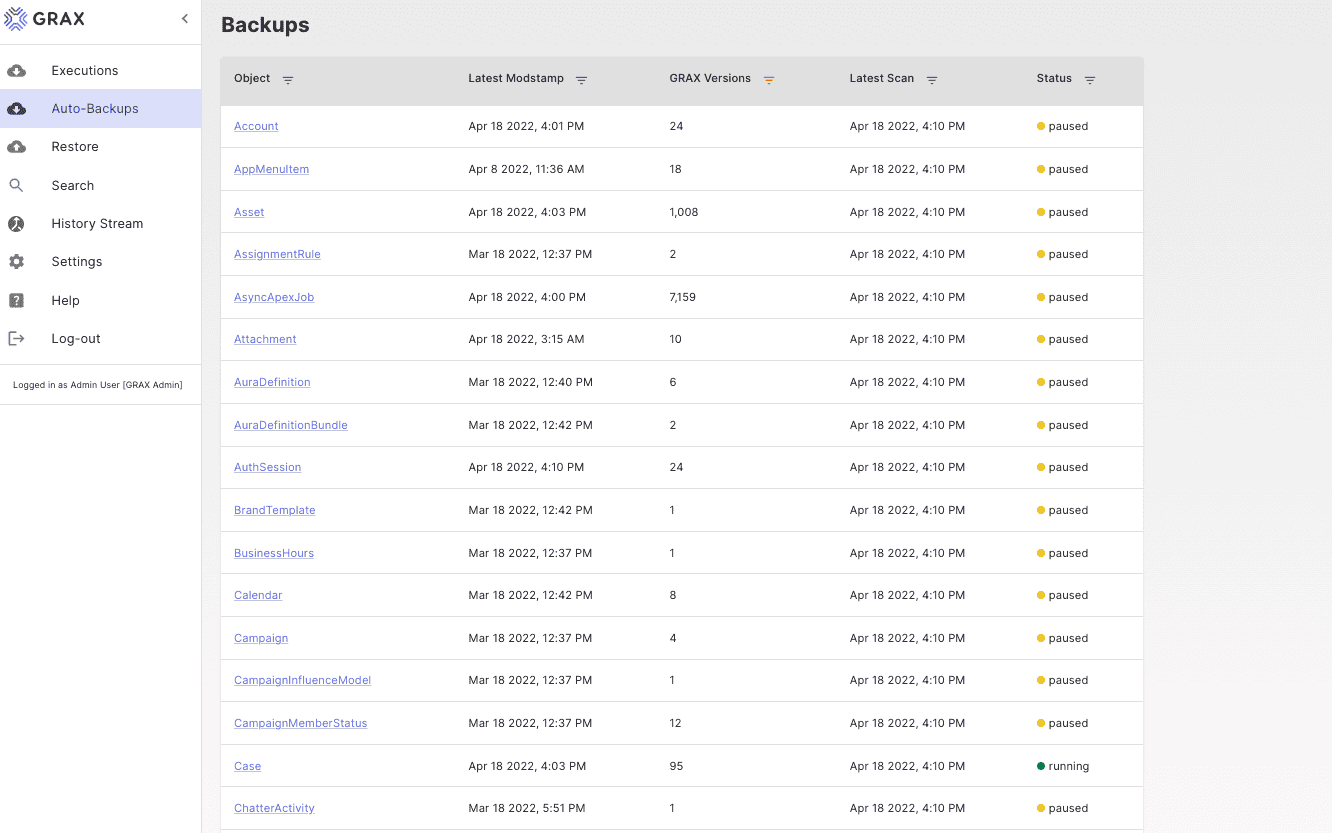 GDPR: Right to be Forgotten
GRAX now has two options for handling Salesforce GDPR requests for Right to be Forgotten: Direct by Customer or GRAX-assisted. These two options will allow you to forget someone by deleting them permanently. Check out our documentation to see how this is done.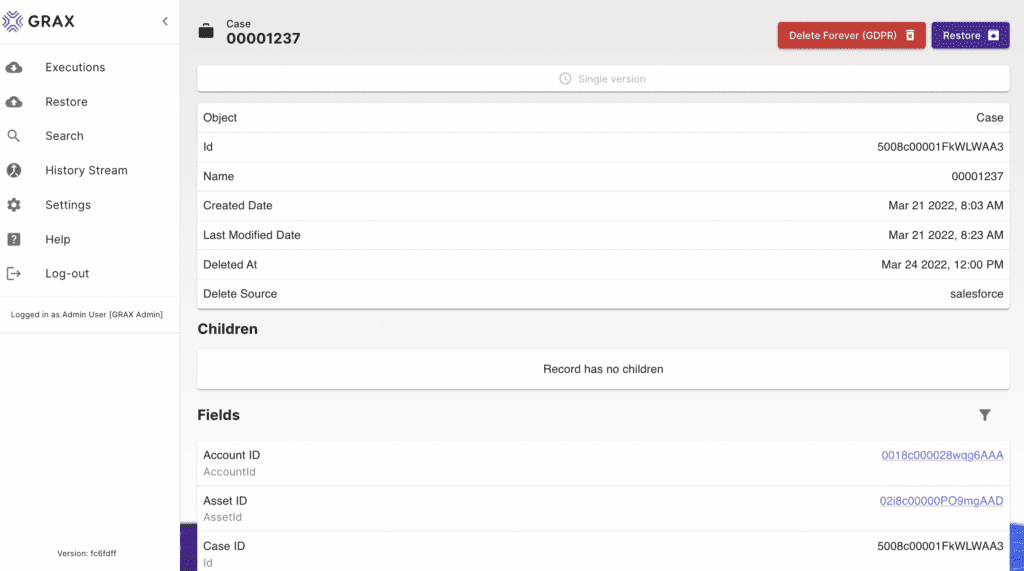 Supporting backup and archive for Salesforce Big Objects data
Do you have record-heavy Salesforce Big Objects? Unfortunately, even native Salesforce backup cannot support Big Objects (BO) backup.
Luckily, GRAX can now help you protect those records stored within your Big Objects. This is accomplished by migrating the dataset from Salesforce Big Objects to GRAX. By doing so, you retain full ownership and access by backing up BO record data into your cloud infrastructure, such as Azure or AWS, thus greatly improving your user experience. Learn how we can support your Salesforce Big Objects data.
Want to learn more?
Check out our release notes to learn more about the Dispersion Edition, including product enhancements and bug fixes.