The GRAX Data Value Platform is an "easy button" for customers who need to backup, restore, and archive data from their Salesforce instances. Customers in all industries are today benefiting from a fully managed, scalable hands-off deployment that gives them the peace of mind that their Salesforce business data is being preserved in a backup.

Over the last 12 months here at GRAX, we have been getting a lot of amazing feedback about our evolution of the product. The move to a more controllable infrastructure with AWS has enabled our delivery of incredible benefits in performance and stability. It has actually opened the door for our engineering team to spread their wings on some amazing new features. Trust me when I say this, it's going to be an exciting year for GRAX customers this year!

Today we are announcing the public beta of the GRAX Virtual Appliance, the latest evolution of GRAX. While this is revolutionary in the backup space, it is actually nothing new to the GRAX team. To simply put it, GRAX allows you to run GRAX inside your own public cloud infrastructure. Instead of having GRAX provision and manage the AWS infrastructure that is running behind the scenes, we can now reach into your AWS world and do that work for you there. This latest version of GRAX has been developed to solve some of the challenges that our bigger customers have been bringing to us.
So Why Is This Important?
"Deploying the GRAX Virtual Appliance means that every single compute resource, network interface, and data storage service used to run GRAX is wholly owned by you…"
Monitoring and Compliance
Having robust monitoring and reporting systems in place allows customers to comply with the regulations that they need to operate under. The GRAX Virtual Appliance backs right into the systems you already have in place to support this effort today, allowing your teams to:
evaluate and onboard GRAX into a compliance framework that you already know and understand.
tie GRAX into your existing monitoring and response processes.
continue a zero-touch operation overhead for GRAX whilst giving you the ability to consume low-level infrastructure signals to act as your operations plans require.
Those familiar with the primitives that the AWS platform provides are no doubt intimately familiar with what I am talking about. The GRAX Virtual Appliance allows you to consume low-level infrastructure logging normally reserved for our own GRAX Support and Monitoring teams. The flexibility this provides is endless.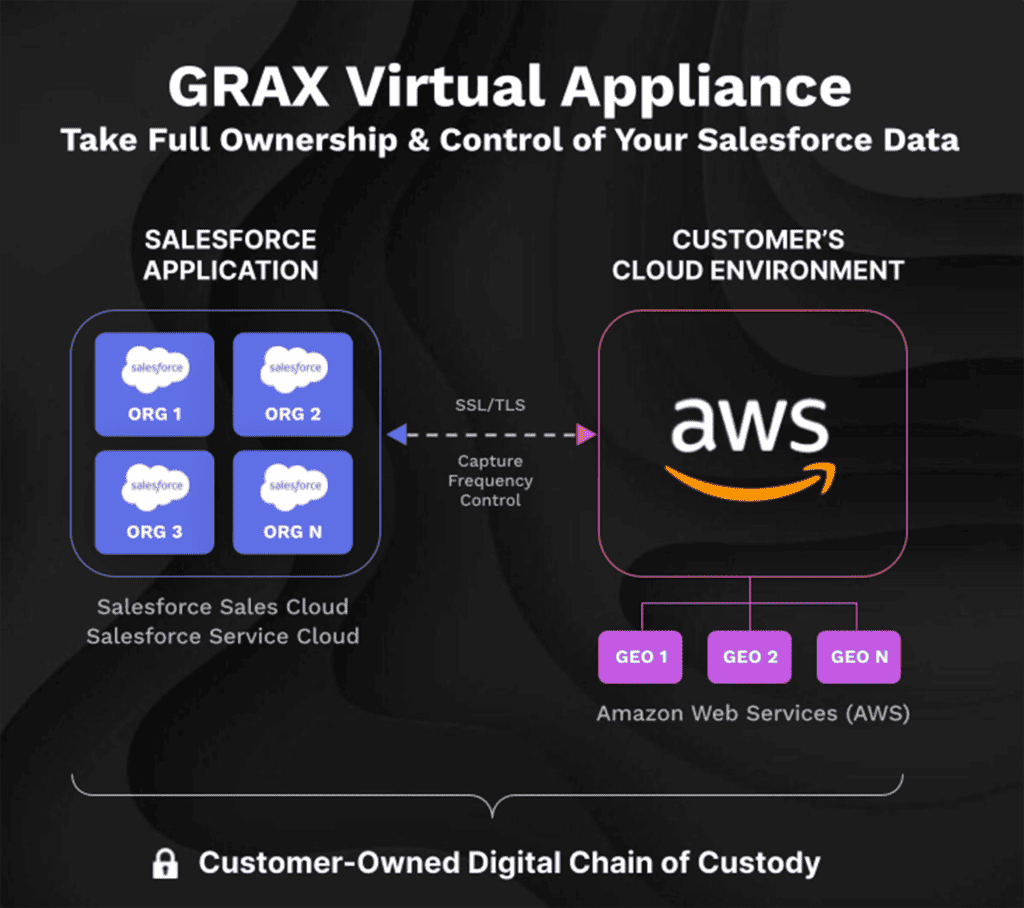 The Digital Chain of Custody
If you are unaware of what this phrase might mean, then I would guess that you are lucky enough not to be operating in a heavily regulated environment. Our customers who do operate in this heavily regulated environment need to know that their most important asset, their customer data, is always within their control. Typically with SaaS providers, there is a complex and costly vendor evaluation and monitoring process that is in place to cover this off with their regulators, but this still means that their data is transiting across network boundaries and is in the hands of 3rd party organizations, even if it is just "held in memory" while it is being processed.

We heard this from our customers so we now offer the GRAX Virtual Appliance, which ensures that your customer data never leaves your isolated and fully owned compute and data storage resources. Now you can have 100% confidence that your CRM backup, archive, and restore operations are all being handled with the same duty of care as with all your other data, with the added benefit of being able to show this to your regulators.

Deploying the GRAX Virtual Appliance means that every single compute resource, network interface, and data storage service used to run GRAX is wholly owned by you while still providing the zero-touch configuration and runtime maintenance that you expect from a modern SaaS application.

This ensures that you maintain the full Digital Chain of Custody of your CRM data during the backup, restore, and archiving process.
I Already Pay for AWS
Are you in this bucket? You know, the boss has already signed off a large annual contract with AWS, and your team is looking for ways to capitalize on this? The GRAX Virtual Appliance is how you can begin to draw down on that existing contracted spend when running the GRAX Data Value Platform. While this is only a subset of our customer base here at GRAX, it is definitely something we hear from them quite regularly.
How Does It Work?
Here is the really neat part, it works in just the same way that GRAX has been working since we began to operate in the AWS environment. GRAX remains a SaaS application, fully managed and upgraded within your environment. Under the covers at GRAX, we use AWS Organizations as the mechanism to isolate individual customer accounts and ensure that strict data security is applied to the data we handle. When you start with GRAX, we push a button and deploy the appliance into this account created specifically for you, then use this same mechanism to push code and infrastructure updates as the product continues to evolve. The details on what components we are going to deploy can be found in our documentation.

The process to get the GRAX Virtual Appliance is exactly the same, except instead of creating an AWS account for you in our AWS Organization, you create one for us. We strongly recommend that you follow the same pattern in that you maintain a complete, account-level separation between the components we deploy and the rest of your AWS resources. Once this account exists, your AWS administrators setup the cross-account trust, and GRAX will use the AWS IAM Assume Role capability to assume a role to create and manage the resources required. Details on how this can be provisioned for GRAX can be found in our documentation.

Once you become a GRAX Virtual Appliance customer, our team will work with your AWS team to help you bring this into your organization's processes. It could be as simple as executing a CloudFormation script in this new account, or if your team likes a little more control, we can work with you to create the required resources in a manner that fits your processes and policies.

So now, with the GRAX Virtual Appliance, you can backup, archive, and restore your Salesforce data directly into/from an environment that you fully control, audit, and monitor. If you are interested in getting started with the GRAX Virtual Appliance, please reach out to your GRAX sales rep or contact us here.
Ready to adapt faster?
Learn how using a Digital Chain of Custody can help you transform your business.
Get started