The GRAX Platform optimizes self-service backup and recovery deployments and centralizes management of data protection across all Salesforce Orgs.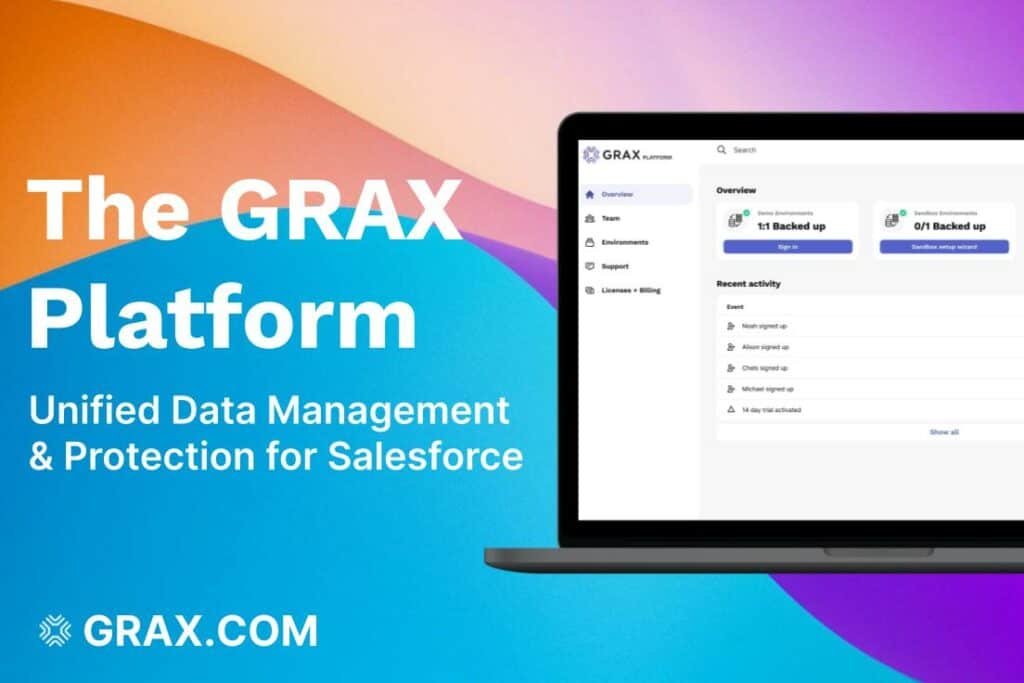 What is the GRAX Platform?
The GRAX Platform serves as a singular pane for centralized multi-org data protection management and streamlines self-service deployments of the GRAX Application for Salesforce backup and recovery. For organizations looking to achieve time-to-value faster, the self-serve deployment option offers unparalleled flexibility and customization for safeguarding your Salesforce data. With this new platform, users can now also easily deploy a free trial of the GRAX application hosted on Amazon Web Services (AWS) in less than 10 minutes.
The GRAX Platform grants you round-the-clock access, putting you in complete control of protecting your Salesforce instances (production and sandbox environments). With just a few clicks, you can centralize, administer, and manage your data, simplifying application management.
Why it matters
With globally distributed teams, it is critical to empower organizations with the ability to help themselves through self-service to achieve business goals – such as faster time-to-value when it comes to software installation and deployment. In fact, according to Statista, 88% of customers expect companies to offer a self-service portal.
Application deployment can be particularly challenging in today's climate of remote teams, hybrid teams, and in-office teams to properly manage and protect customer data, especially navigating General Data Protection Regulations (GDPR) and sensitive information. This is where a self-service data protection solution can help immensely.
The GRAX Platform was created to provide a comprehensive, streamlined, and flexible solution for organizations to protect their valuable Salesforce data using the GRAX Application, ensuring business continuity, data quality and integrity, and peace of mind.
It's time to say goodbye to traditional Salesforce backup and recovery solutions with complicated and lengthy deployments. No more settling for vendors who hold your data hostage. With just a few clicks, GRAX Platform streamlines data ownership and data management on your terms. It's your data, it should be your rules.

Joe Gaska, Head of Product @ GRAX
What it includes
The GRAX Platform creates a singular pane for unified multi-org data protection and application management coupled with seamless self-service deployments, where it also provides:
Multi-Org Management – Centralized data protection and unified data management console across all of your Salesforce Orgs.  

24/7 Access – Instantly access and manage your GRAX applications for any Salesforce production and sandbox environments anytime, ensuring uninterrupted control and productivity.

Easy Deployments – Swift self-deployment of the GRAX Application to your preferred data storage environment (AWS, Azure, GCP, on-prem, Docker) for effortless deployment and setup of hourly/daily backups.

Centralized Control Center – Manage global permissions and monitor Salesforce Org health through a single, comprehensive dashboard.

One-click Login – Seamlessly navigate between environments, facilitating streamlined administration, management, and observability.

Hosted Free Trials – Deploy a Salesforce backup solution in 10 minutes and rest assured that your data is secure, backed up hourly or daily, and easily recoverable in case of a disaster or data loss event.
Try GRAX now
Get started with unified data management for Salesforce backup in 10 minutes or less!
Try now
Who it benefits and impacts
From small startups to large enterprises, the GRAX Platform provides scalable data protection and unified data management solutions that cater to the needs of organizations at any stage of growth.
Salesforce Administrators: Empowering Salesforce Admins with centralized control and streamlined workflows, allowing them to efficiently manage and safeguard data across multiple Salesforce orgs.
IT and Data Management Teams: Simplifies data protection tasks and reduces administrative overhead, enabling IT and data management teams to focus on strategic data driven initiatives while ensuring the security and integrity of valuable Salesforce data in case of a disaster recovery event.
Compliance and Legal Departments: With its robust data protection features and centralized control, the GRAX Platform assists compliance and legal teams in supporting regulatory requirements and ensuring data governance and geo-affinity by empowering users with the ability to choose what region to store their data.
Executive Leadership: The GRAX Platform provides executives with a high-level comprehensive view of data protection operations, enabling them to make informed decisions, ensure business continuity, and mitigate risks associated with data loss.
The GRAX Platform was designed to benefit a diverse range of users, empowering them with centralized Salesforce data protection and enhanced control in managing and safeguarding their valuable Salesforce data.
Learn more
To start your free trial of all GRAX product features, sign up here.
Manage and protect your Salesforce data with daily backup for free, get started here.
—
GRAX Platform is generally available soon. Any unreleased services or features referenced in this or other press releases, public statements, or public materials are not currently generally available and may not be delivered on time or at all. Customers who purchase GRAX should make their purchase decisions based on currently available features.