GRAX honored with Bronze Stevie, with judges citing impressive customer experience metrics while our company experienced significant growth.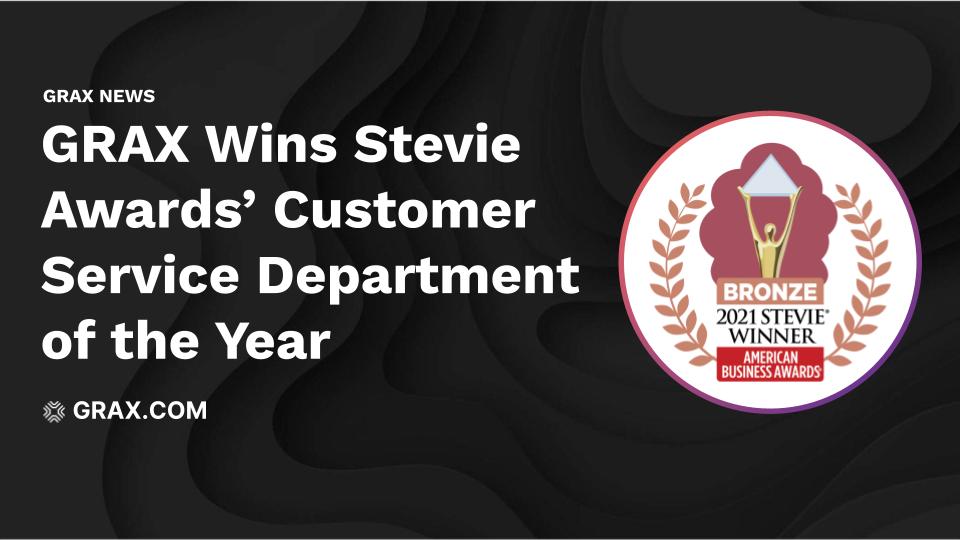 What is the key to superior customer service? For GRAX, it's white-glove care, a commitment to responsiveness, and our remote-first culture. This explains why we won Bronze for the Stevie Awards' Customer Service Department of the Year. As a remote-first company from the get-go, GRAX's customer experience wasn't impacted due to the pandemic. In fact, in 2020, our customer service team helped manage 62 new implementations – up 30% compared to 2019 – all while reducing time-to-completion by half. GRAX's ability to deliver top-notch, real-time customer service, is a testament to the quality of our culture and technology. We are thrilled the Stevie Awards' recognized us.

Key Takeaways:
GRAX has achieved impressive internal metrics, including a Net Promoter Score of 35, a customer satisfaction of 75 with 70% of customers reporting a positive sentiment toward the company.
"An amazing example of camaraderie flowing through the whole company, positively impacting customers and employees alike," said a Stevie Awards' judge.
GRAX was recognized by another judge for leveraging internal technology and resources to better serve customers during challenging pandemic times.