Continuously auto-archive your Salesforce data while keeping it available in production
In a recent survey by ESG, they found that the data volume is growing at an "inexorable pace" of 40% year over year.

ESG Master Survey Results: Real-world SLAs and Availability Requirements, August 2020.
More data, more problems?
When you consider how much hyper-converged, mission-critical business data we have in our cloud applications, such as Salesforce, it's easy to see the conundrum that most IT teams have to deal with at scale: how do we balance data availability with the cost associated with keeping that data available?
The truth is, most cloud applications charge an arm and a leg for keeping your data in production, requiring you to constantly prune it through pro-active archiving strategies that move archived data out of production in order to reduce storage costs and improve cloud app performance. Until now.
Welcome to GRAX Winter '21 – Relativity
Today, we've released GRAX Winter '21 Relativity Edition – the most intelligent way to archive and access Salesforce data. The Relativity Edition features the release of:
Enhanced Archive for data availability in production
History Object Backup for compliance support
Live Job Summaries for improved status clarity & easier access
This release fundamentally changes the game on traditional data archiving. IT Teams no longer have to sit and make tough decisions between the benefits of keeping data in production vs. the cost savings or performance improvements of archiving it out.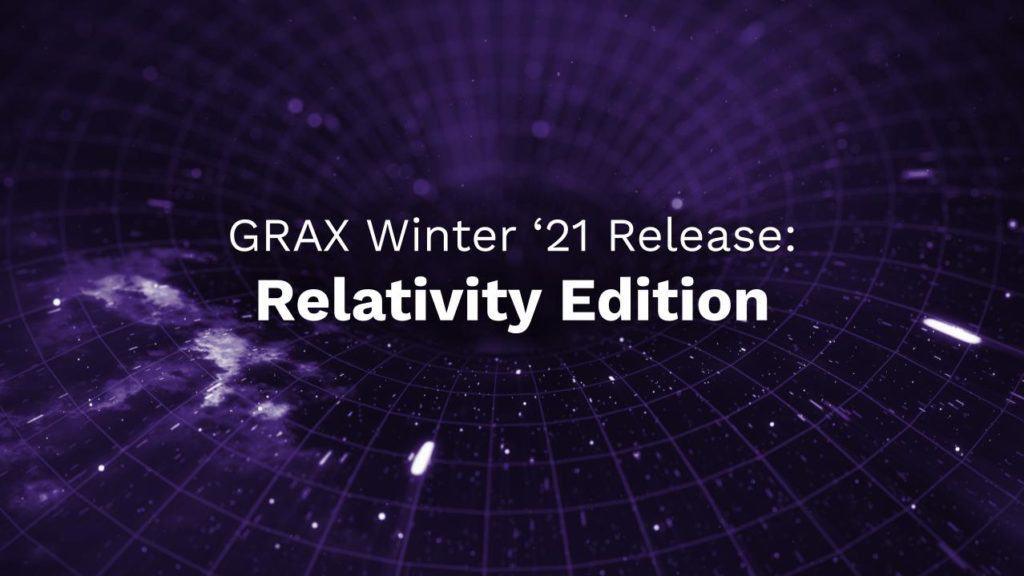 A Better, Faster Solution: GRAX Enhanced Archive
Enhanced Archive allows GRAX customers to back up and archive their Salesforce data to their customer-owned cloud storage even faster than before. Not only is there a 10X – 20X performance improvement, but archived data continues to appear natively alongside live data (via the lightning component). Customers can also retain a full, unlimited history of their data that they can navigate directly inside of Salesforce.
Whether you're archiving Sales Cloud, Service Cloud, Community Cloud, or other Salesforce Platform application data, this functionality allows you to orchestrate archive jobs at scale:
Automated archive jobs – Put your archive strategy on autopilot with rolling dates
In-App availability – Keep archived data available inside of Salesforce production environments
Precision targeting – Filter by Salesforce reports, custom criteria, or SOQL queries
Bring Your Own Storage (BYOS) – Archive data to your storage provider of choice (AWS, Azure, or GCP)
Autonomous API multi-threading – Avoid application governor limits
One-Click Unarchive – Click to 'un-archive' records directly inside of Salesforce
Hassle-free deployment – One managed packed, one implementation for reduced Time to First Value (TTFV)
Near-zero learning curve – Same intuitive setup for backup and archive in Salesforce's interface
With GRAX data archive, historical data doesn't just disappear from Salesforce; it remains readily available and accessible in the Salesforce production instance. Customers using GRAX Data Archive have:
Optimized their Salesforce application performance
Reduced IT spend on application storage
Long gone are the days where you have to painstakingly decide what data to keep in production and pay the premium for storing it. Learn more about how you can leverage Enhanced Archive for your organization's needs.
Put your archive strategy on autopilot.
Archive your data & maintain access inside of your Salesforce production environment
Get started
Supporting Compliance via History Object Backup
GRAX customers can now capture history tables on objects and fields for which they've enabled history tracking. Salesforce currently stores history tables for only 18 months in the UI and up to two years via API. With GRAX, you can store history tables beyond that Salesforce limit to help support your compliance needs and feed into your downstream processing strategy.

Learn more about backing up Salesforce history objects.
Want to Learn More?
To learn more about the Relativity Edition, including product enhancements and bug fixes, please see our GRAX Winter '21 Release Notes.