Visualize Your Data Lineage and Trace Changes in Your Salesforce Data Over Time
While field audit trails are a key data governance requirement in some of the most highly-regulated industries in the world, we believe that they can also be a strategic value driver for our customers.
Think about how many times you've wanted to find out:
What's changed in your pipeline velocity over time?
Who's accessed what sensitive data and what changes have they made?
How net promoter score across your customer based has trended for your strategic accounts?
Advanced Audit
In a world of data abundance, the only way to effectively compete and win is to capture and act on every single change in data over time. This is why we released GRAX 2.0. Release 2.0 takes the industry-leading functionality of GRAX Time Machine to a whole new level with Advanced Audit.

Advanced Audit allows our users to see all changes in data and metadata side-by-side, giving them an unprecedented level of insight into the granular lineage of all changes in their data right inside of Salesforce.
Why is this important?
It's the difference between viewing the data with binoculars VS. an electron microscope. And because GRAX Time Machine captures every single change in data over time (with no field limitations or retention limits), GRAX 2.0 allows you to continually inspect your data for new change patterns that emerge over time.

Since GRAX works with Salesforce Shield, it adopts and adheres to the security and governance policies set in Shield, while making GRAX data available in Shield for high-level analytics (via Einstein). The same advanced audit trail is also used as a blueprint for the world's most powerful "UNDO" button: GRAX Restore. Restore allows users to recover data to any point in time (change-point, not just scheduled backup point), allowing users to recover from the most complex data operations such as merges or multi-org deletions.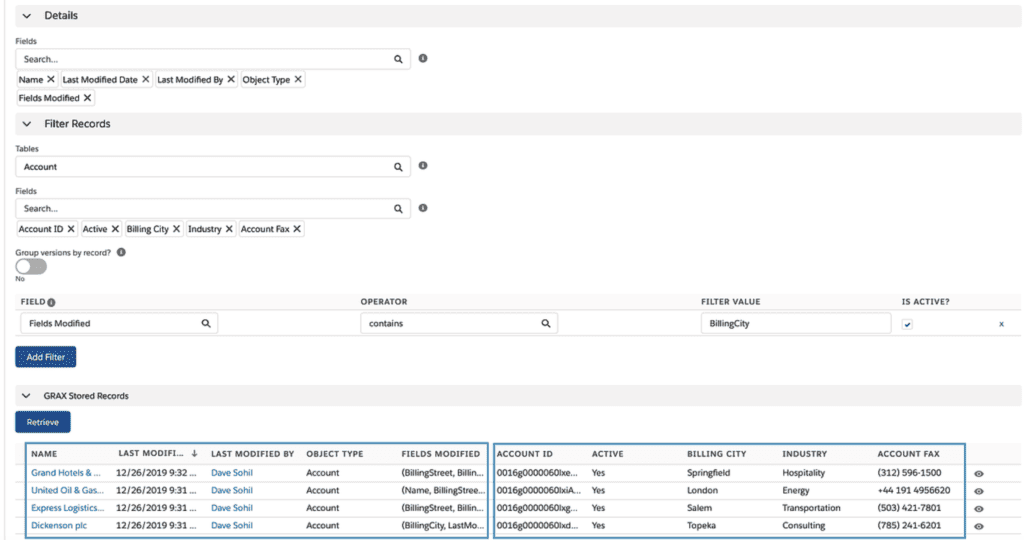 Users can also conduct advanced searches on all change events – the example above illustrates a query to show all changes in the BillingCity field. Queries can be built using custom parameters or even custom reports as the basis.

By clicking the "eye" icon next to a record, users can drill fully into that specific time machine event and see every underling field of the changed record (original value vs new value vs current value). Users can also filter based on specific objects, specific records, fields modified, and a number of other parameters.
You Own 100% of Your Data's Chain of Custody
While the features above are critical and ground-breaking for our customers, we feel it important to highlight one other core tenet of the GRAX Data Value Platform:

All historical data captured with GRAX is stored in the customer's cloud storage environment (AWS, Azure or Google Cloud), allowing customers to own and preserve 100% of their data's digital chain of custody. This allows customers to bring Salesforce data under their organization's governance umbrella, while keeping the data 100% available and accessible inside of Salesforce.

Nobody else in the industry is able to make this claim, and GRAX 2.0 makes this core tenet of our platform even more powerful.
Ready to Go?
GRAX 2.0 is out now. To update to the latest version, please email help@grax.com to set up time with our success team.
Want to Learn More?
To learn more about more about this release, including a number of the improvements and bug fixes contained herein, please visit https://documentation.grax.io/changelog/grax-200.